Han Rädecker
1921-1976
It was no surprise that Hanni would become a sculptor as his father, grandfather and uncles were sculptors too.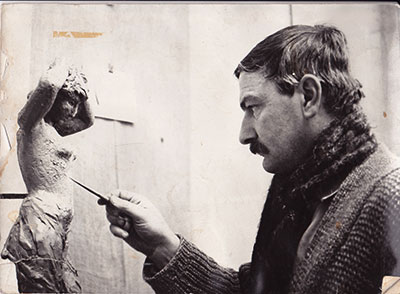 Han, officially Johan, was born in Groet, Noord-Holland on the 22th of February in 1921. He was the son of John Radecker and Annie Radecker-Ten Herkel. John soon realized Hanni had potential as a sculptor and started teaching him at an early age of nine years old. By the age of 14, Hanni began to work in the studio of his father, taking care of the "easy" jobs that needed to be done, including working on memorials and the decorations of the City Hall in Medemblik. Later he helped contribute to the monument on Dam Square after his father John became ill. One of the lion statues was carved by Han.
Partly because of the second world war, Han left the family home early and went to Amsterdam. He and other artists with him, did not register with the culture chamber imposed by the enemy, therefore it became increasingly difficult for them to work. In 1942, the sculptors, Teun Roosenburg, Piet Damsté and Hanny Rädecker journeyed on a road bike and a tandem looking for a place where artists could exercise their profession freely. They ended up all the way in the south of Limburg where Castle East* became their establishment.
After the war, Hanni, through the intercession of Professor Bronner awarded a scholarship to study at L'Ecole des Beaux-Arts de Paris. Han already fluently spoke French as the family Rädecker had lived in Paris in 1930 for one year. A publisher once asked him to translate poems from French into Dutch, however Hanni was afraid he did not have the right translation skills to express its full meaning and declined the offer. At the Beaux-Arts Han had classes from a teacher named Mr. Gaumont. Hanni lived in the pavilion Neerlandais. Because of his length, and his Dutch origin, he used to be called 'la grande Tulipe'. At the academy he became friends with painter Alain Brayer who invited him in 1966 to come visit him in the Auvergne. Alain offered Hanni a small piece of land for him to built a small house and studio on. For Han this was the most desirable place to reside and work.
Han Rädecker's work was mainly in figurative style, skilled in both sculpting stone as well as molding clay and wax. He could handle big as well as small pieces of work. With his big hands and thick fingers, he managed to sculpt figurines, as sophisticated like a Tanagra. Not surprising he sold a lot of his work on exhibitions and had many assignments, both from individuals, municipalities, institutions and companies. You can see his work in Amsterdam, for example 'Leda and the Swan' in the Erasmus Park, 'the rooster and the snake' in Westerpark, both commissioned by the city of Amsterdam. In Amstelveen you can find a stone statue of a dog in the Augustinuspark and a similar dog made of bronze in Alkmaar. For an insurance company in Gouda he made a bronze swallow and in Haarlem you can admire a large mural of St. Jacob at St. Jacob's Hospice. For the ANWB headquarters in 1961, he had a double assignment with his younger brother Nouki. For the illustrated press he carved a tree with leaves and birds, an example of true craftsmanship. Various museums were buying his work. According to painter Jan Peeters, Hanni made a life-sized panther at the age of 17, which was immediately put on display at the museum of "De Hoge Veluwe". Other museums that purchased work of Han Rädecker are Centraal Museum Utrecht, Kasteel het Nijenhuis in Heino and Stedelijk Museum Alkmaar. In the last museum mentioned, his friends and colleagues Paul van Crimpen and Theo Mulder hosted a retrospective exhibition of Han's work in 1977.
His father John, saw an animal sculptor in his son Hanni. Han was commonly known for his horse and dog sculptors as well as for his female figures and childrens portraits. Han himself was very fond of the portrait of Mitsuko, the daughter of his second wife Emika Banno. With her he had a daughter named Hanna. Out of a previous marriage with Aad Reus he had a son called Mart.
From 1946 Han lived and worked in Amsterdam. At some point of his life he was asked to become a teacher at the Rijksacademie in Amsterdam. After a serious consideration he declined the offer out of fear for not having enough time to work on his own creations.
Around his 50th, Han got ill, science could not give any name to his disease.
On the 2nd of December 1976 Han passed away in Antwerpen (Belgium).
*Kasteel Oost en zijn kunstenaars, uitgeverij van Spijk B.V. Venlo, ISBN 906216 3556.